Travertine
Marble
Onyx
Granite

Iran Travertine Advises:

To make a room appear:

Larger:
Light-medium colors or large format tiles
Smaller:
Medium-dark colors or small format tiles

Lighter:
Light-medium colors
Darker:
Medium-dark colors (dark colors work best in rooms with plenty of natural light)

Warmer:
"Warm" colors
Cooler:
"Cool" colors

Neutral color:
Larger tiles with coordinating grout joints or stone tile with thin coordinating grout joints
Color accents:
Inset color using field tile or decos

Larger with a visual flow:
Using the same tile from room to room
Distinctive rooms and areas:
Change the size, the direction or use decos

Cream TravertineThe most beautiful travertine color, it is used as flooring or wall covering tiles, also it would be suitable for bathroom and kitchen
Available in: Polished, Brushed, Tumbled, Unpolished

We are supplying beautiful Travertine tiles ideal for both the home and business from Iran. Company has developed into one of the leading names in Natural Stone Exporting, as well as a leading supplier of Travertine tiles from Iran.
We provide customer service of the highest standard and a collection of some of the world's finest Travertine tiles. The experienced team a wealth of expertise and can provide customers with advice and guidance in choosing the right Travertine tiles.
When it comes to supplying customers with Travertine tiles we are the only company in Iran who can provide our customers with a complete range of unique Travertine tiles through internet.

Contact Information
Tel: +9821 - 22092057
+98912 - 1060086
Mail:
info@irantravertine.net
Sales: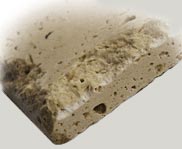 Natural Stone Information and Gallery

Whatsapp: +989121060086

| | | |
| --- | --- | --- |
| | | Iran Travertine is one of the most frequently used Iranian stones in modern architecture and is commonly seen as facade material, wall cladding, flooring and Versailles Pattern . |

Travertine Gallery

-

| | | |
| --- | --- | --- |
| | | Iran Marble is reputed in the international market for its premium quality, toughness and durability. It is often the preferred choice for interior and exterior ... |

Marble Gallery

-

| | | |
| --- | --- | --- |
| | | Iran Onyx shines especially well when used as a backdrop for color play. Its fine texture also makes it ideal for interior design as a luxurious place. |

Onyx Gallery

-

| | | |
| --- | --- | --- |
| | | Granite is available in a wide variety of colors and can be shaped into straight or curved patterns to match virtually any requirements including beautiful kitchens, vanities and bathing areas. |

Granite Gallery

-

| | | | |
| --- | --- | --- | --- |
| Special Marble by Iran Travertine: | | | |
We are one of the best and the largest suppliers of the Tiles in Iran, as we provide the main demands of the Iran stone market, and we are trying to develop our market beyond Iranian borders.
The iranian Travertine is processed by the best Iranian & Italian machineries, knowledgable experts with highly qualified reputations.

| | |
| --- | --- |
| | We are member of Iran chamber commerce and member of Australia, Italy, Canada, England, Iran chamber commerce and industry as well. |

Certificats

-

Your Order will be delivered in good condition
We can ship to virtually any address in the world.(from Iran)

Shipping

-

Iran Travertine co-operates with famous Iranian factories, equipped with modern Italian machinery. Our choosing includes Marble, Travertine tile, slab, slate, etc. We currently prepare countertop, fireplace, tombstone, cut-to-size building stones, tiles and slabs, slate and landscaping stones with exquisite craftsmanship. We also supply patterned tiles and mosaics made from Iran Travertine Stones. Besides, in order to ensure that the quality for every order can satisfy our customers? Needs, we adopt comprehensive management and advanced quality control systems.

We provide your orders in different cutting: cross cut, vein cut | Different Surface Finishes: Polished, Honed, Tumbled, Brushed, Antiqued, Bush-hammered, Sandblasted, Natural Cleft, Split Face and Chiseled.

Travertine is an excellent product for residential and commercial use and is becoming increasingly popular because not only does it have the elegant look of marble, but also once sealed Travertine tiles require very little maintenance, which allows for a timeless & beautiful appearance.

---

Travertine Products - Iran Natural Stone

Cream Iran Travertine All variety of color in Cross Cut
CLASSIC Iran Travertine All variety of color Cross Cut
Iran Travertine Vein Cut


Travertine tile with Iran origin is famous in particular colors and patterns and such of them like red, yellow, Walnut, Brown, Golden & rich cream without sameness located in Iran, they are famous for using in floor & wall tile.

Our Products: Cream Grade A - B - C - D, CLASSIC Travertine 1 - 2 - 3 - 4 - 5 - 6 -
Special Iran Vein Cut Travertine: Persian Red - Persian Dark Red - Persian Light Yellow - Persian Yellow Persian Dark Yellow - Persian Brown Walnut - Persian Rosa - Persian Rosso - Persian Brown
Persian Cream Medium 1 - 2 - Persian Gray - Skin Snake

---

It is extensively used for sculpture, as a building material, and in many other applications. The word "marble" is colloquially used to refer to many other stones that are capable of taking a high polish.

Our Products: Persian Red - Botticino Sa - Golden Classic - Tulip Botticino - Pink Sara - Damascata
Tea Rose - Antique Green - Caspian - Spring Yellow - Light Filetto Rosso - Red Fossil - Spring Rose
Dark Filetto Rosso - Black Type m - Beige Limestone (Gohara) - Dotted Ivory - Pink Desert
N.S Perlato - Red Kish - Botticino - Persian Perlato - Black Marquina "Type N" - Red Ropaz

---

Onyx Products - Iran Natural Stone



Onyx is a cryptocrystalline form of quartz. The colors of its bands range from white to almost every color (save some shades, such as Purple or Blue.) Commonly, specimens of onyx available contain bands of colors of white, tan, and brown.

Our Products: Green 1 - 2 - White - Orange - Pink - Brown

---

Granite Products - Iran Natural Stone



Granite is a common and widely occurring type of intrusive, felsic, igneous rock. Granite has a medium to coarse texture, occasionally with some individual crystals larger than the groundmass forming a rock known as porphyry. Granites can be pink to dark gray or even black, depending on their chemistry and mineralogy. Outcrops of granite tend to form tors, and rounded massifs. Granites sometimes occur in circular depressions surrounded by a range of hills, formed by the metamorphic aureole or hornfels.

Our Products: Beige Zanjan/ Iran - Chocolate Zanjan / Iran - Cream Orumieh/ Iran - Ekbatan/ Iran - Pink Zanjan/ Iran - Red Yazd/ Iran - Snake Skin /Iran - White Natanz/ Iran

---


Inside thewebsite:
Galleries >> Travertine(Iran) | Iran Marble | Iran Onyx |Iran Grnite | Bathroom Finishing | Floor Finishing | Kitchen Finishing | Wall Finishing | Outdoor Finishing
General Info.>> About | Products | Packing/Shipping | F&Q | Sitemap | Contact Us
Useful Information>> Iran Information | Travertine Info. | Marble Info. | Onyx Info. | Investment Law | Newsletter

Useful Information
Iran Information
Travertine Info.
Marble Info.
Onyx Info.
Investment Law
Newsletter
Useful Links
www.rockstone.biz
www.IranStoneBlock.com
www.australiamarblestone.com
www.iranstone.org
www.irantravertine.org
www.iranmarble.net
Edge Finishes Info.
Standard Edges are chamfered, meaning there is a very slight bevel (approximately 1/16"-1/32").

Saw Cut/Straight Cut edges are exactly as described, sharp to the touch with no processing.

Tumbled edges are soft and rounded from the tumbling process, but not in a perfectly linear manner.
Tumbled Edges are processed to provide an antiqued look. The tumbling process typically creates a rounded edge, somewhat uneven, but soft as opposed to a hand-chiseled edge.

Chiseled Edges, typically on honed or tumbled limestone and travertine tiles, are hand chiseled ¼" to ½" from the edge of the tile to create a more "antique" look. There is some roughness to this edge, which is the intended effect.

Pillowed Edges are processed with a gentle and distinct radius that will vary in size, but typically will be ¼" to ½" from the edge of the stone.

Travertine Applications:

From small mosaics to large slabs, Iran Travertine stone tiles are used for:

- Kitchen Floors.
- Kitchen Backsplashes
- Counters
- Entryway Floors
- Interior Walls
- Outdoor Walls
- Fireplace Surrounds
- Bathroom Floors
- Bathroom Walls
- Tub Surrounds
- Outdor Patios and Walkwoays
Where would I use travertine?
Travertine has been used in the construction of buildings for thousands of year. In today's construction, travertine is used for flooring, cladding on buildings, showers, wall coverings (Indoor and Outdoor) and counter tops.
The advantages of natural stone
- Timeless, unique appearance
- Design capabilities of through-body color material
- Perceived value
- Durable countertops and floors (granite)
- May be re-polished if scratched
The disadvantages of natural stone
- Ongoing re-sealing program is required
- Limited chemical and stain resistance
- Higher installation costs than ceramic tile
- Product received seldom looks like the sample
Australian office ready to give services to all clients in Australia , news land & neighbor countries